Understanding the Types of Forklifts
If you're looking at forklifts, you've probably noticed that there are numerous types available. You are not alone if you find everything very confusing and all the choices makes it very difficult to choose the right kind of forklift for your business. Although the range you can expect to find is quite broad, in general there are seven different types of forklifts:
Counterbalance – The lift truck most people think of when they imagine an image of a forklift, is the counterbalance forklift. They are, by far, the most common type. They have two forks at the front of the unit so that materials can be picked up vertically and then moved. These lift trucks are available in gas, diesel, or electric. They offer a wide variety of features and options.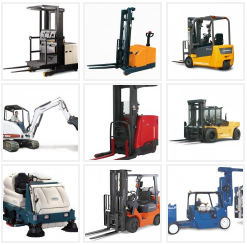 Three-wheeled counterbalance – This type of truck is very similar to the first type, although it has three wheels instead of four. This makes these trucks easier to maneuver in tight spaces.
Reach trucks – This type of lift truck is usually used inside warehouses. They're designed to lift things very high off the ground. A pair of stabilizing legs serves to hold the forklift in place while the load is being raised to or lowered from very high racking.
Hand pallet trucks – These trucks are non-motorized and operated simply by pumping the handle up and down. There are just as many types of hand pallet trucks as there are forklifts in general. They are mainly used to move palletized loads and stacking.
Powered pallet trucks – These lift trucks are similar to hand pallet trucks, although they are operated by an electric motor. The battery needs to be charged from time to time. Many of them can simply be plugged into to be charged.
Sideloaders – This type of forklift is normally very wide to give the unit stability when pick up wider than normal loads. They're perfect for very long materials like sheets of plywood, pipes, or timber. This type of forklift usually moves in various directions from buttons that turn the wheels to allow the unit to maneuver very wide loads.
Telehandlers -This type of lift truck is significantly more expensive than the other types. They have a mast that extends up and outward instead of a straight mast that just extends straight up and down. Telehandlers are extremely versatile and mainly used outdoors on for construction applications.
Of course with each of these types of forklifts, you will also find numerous other factors to consider when choosing the right type. For example, electric lift trucks tend to be less expensive to operate than gas or diesel trucks, but they are also less powerful in most cases.
When learning about the different types of lift trucks and deciding which one is right for your business, it's important to consult with a professional who can go into detail and ensure that you are considering all options. For example, certain vehicles may be rated for the type of work you have, while others are not. You should have a thorough understanding of what you need to lift, how large of a space you will be working in, and the size of your largest and smallest possible loads. This will help you narrow down the choices of which type of truck to purchase.
Quality Forklifts in Toronto, Ontario, Canada
Magnum Material Handling is your source for quality forklifts in Toronto, Ontario, Canada.
If you need help determining what kind of forklift you need, call Magnum Material Handling today!
They'll help you make the right decision.
Toll Free: 1-866-342-6652.